Our Needs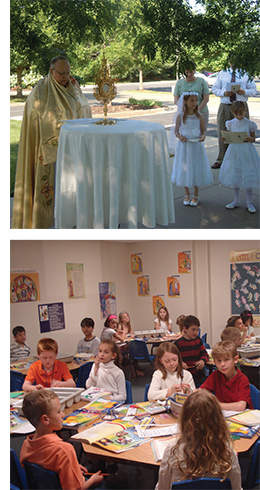 As members of Pax Christi Catholic Church, we embrace discipleship of Jesus Christ. As followers of Jesus, we accept responsibility and accountability for all God's gifts.  As good stewards on our "Journey of Faith" and in harmony with God's gift of Pax Christi parish, let us turn our attention to a number of identified immediate and long-term needs.  In 2014, an Exploratory Committee embarked on a process to determine the current and future needs of the parish.  The Committee determined that the "temporary" use of space should come to an end, and permanent spaces are needed for faith formation, parish gatherings, fellowship and administrative offices.

Our church began with a vision in 1994 that resulted in our current church building being dedicated in 2002. All our church activities were made to fit the space in a temporary-use manner, until they have grown beyond what is feasible.

Inadequate Faith Formation Space
A major challenge for Pax Christi is the lack of functional space to educate 250 to 300 of our children, youth, and adults in the tenants of the Catholic faith. The temporary space in the basement is inadequate to provide a proper setting whether for sacramental instruction, RCIA, or social justice teachings. While we know the importance of, and our commitment to, our faith formation program, our facility does not convey this message.
•    Faith formation enrollment for children, youth, and adults increases every year.
•    We currently have eight temporary non-soundproof classrooms and a total of eleven are needed to meet the present enrollment.
•    Current classroom dimensions vary and are insufficient to accommodate large class sizes. 
•    We don't have sufficient meeting space for RCIA or adult formation programs.  Portable fabric screens are used to segment meeting space.
•    Noise abatement is an ongoing challenge, creating a difficult teaching and learning environment.
•    Poor classroom facilities hinder the recruitment of qualified instructors.

Inadequate Parish Hall Space
The present basement temporary parish hall, due to size and configuration, limits parish activities such as the annual picnic, large reception, wedding receptions, music programs, and the annual parish yard sale.
•    The space is too small and forces some parish activities to be held off-site such as Autumn Affair, Prime Timers Christmas Party and the wine and cheese party.
•    Our basement kitchen is not equipped with appropriate appliances or prep space to handle large or catered events.
•    The atmosphere of the unfinished space looks and smells like a musty basement.

Inadequate Parish Office Space
Along with meagerly serving the faith formation and gathering space needs of the parish, our parish administrative offices are also located in the basement.  And this too was never intended as a permanent arrangement.
•    The small area does not allow for work space for all of our parish staff such as our pastoral associate, deacons, support staff, and our volunteers. Sensitive conversations and business transactions are a struggle due to open existing office space.
•    We also lack the storage space needed to adequately and securely store our parish records.   Boxes and files are stored in the open because no storage space was created in the original temporary office space.
•    The poor air flow and ventilation create a less than desirable environment for staff and volunteers.
•    Situated under the church, the location of the parish offices offers poor accessibility and visibility to visitors.