Our Campaign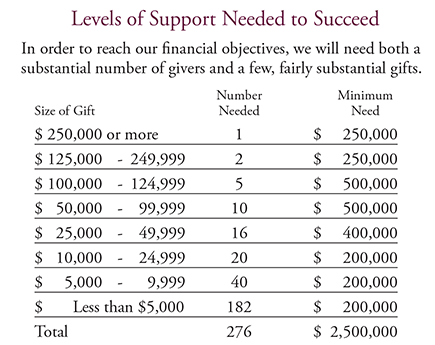 To address our needs and plans we are initiating an intensive fundraising effort titled the "ADVANCING THE JOURNEY" campaign.  Our aim with this important effort is to raise the funds required to refurbish the current church basement into faith formation space and construct a new parish hall with staff offices. 

In this three year capital campaign, our plan is to direct the first $700,000* to renovate the church basement into permanent faith formation rooms. We hope to initiate basement renovations in June 2017. We will proceed with the construction of the new building when we receive the additional $1.8 million required by the Diocese of Lexington to break ground. We anticipate a follow-up three year campaign for $2.5 million to pay off the mortgage on the new building. All funds raised in excess of $2.5 million will reduce the needed goal to pay off the remaining debt.

As indicated, the new building will house the staff offices, meeting space, a commercial kitchen and a hall to provide groups as large as 300 people in a banquet setting. The new building committee will also address the issue of creating a multi-use space.

*$700,000 is consistent with what our fundraising counsel said could realistically be raised in our campaign.  Our hope, however, is to do even better than this, which will require everyone to stretch a bit and give to the best of their abilities.