Our Plans
Framed in the tradition of Catholic stewardship, the four founding pillars of our parish are liturgy, faith formation, hospitality, and Christian service.  By all accounts, our parish robustly embraces sacred liturgy! We also engage in warm, authentic southern hospitality to members and visitors. Our hope is to fulfill in full measure the faith formation and education of all who seek the richness of the Catholic faith.   It is also our endeavor to extend beyond our parish boundaries to proclaim the good news through meaningful and sustained Christian service.

When the present parish facility was constructed, the basement area under the church was left unfinished and has served the parish in several multi-use and temporary configurations. Thankfully, the deliberate efforts of our pastor and the dedicated service of parish lay leaders collectively visualized the next phase of Pax Christi. The Exploratory Building Committee recommended a facility redesign and expansion that go to the heart of faith formation and hospitality; the renovation of our current faith formation space, the construction of a new parish hall, and new staff offices.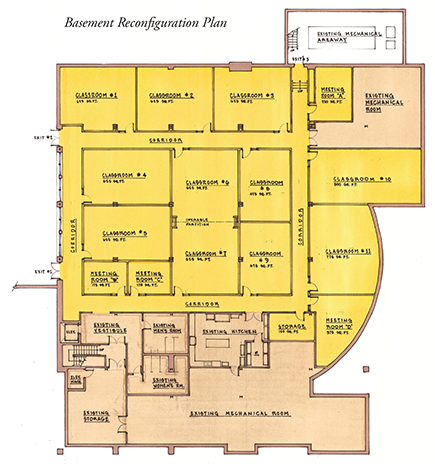 Refurbish Church Basement into Faith Formation Meeting Spaces - $700,000
Faith formation is a foundational pillar of Pax Christi. Therefore, our plan will provide a redesigned, updated space for our children, youth and adult FaithWalk programs.
•    We will remodel the entire basement and create our new 11,000 square foot permanent faith formation area!
•    Eleven new soundproof classrooms will be created which will each accommodate 25 children/youth.
•     Our plan also includes four 12'x12' meeting rooms for Adult Formation and RCIA candidates.
•    Each learning space will have locking storage cabinets, TV/DVD players and wireless internet connectivity.
•    Improved and proper air circulation and HVAC rework will ensure this area no longer feels or smells damp.
•    We will also rework the sprinkler system and emergency lights to ensure a safe environment in the case of an emergency. 
•    All electrical and lighting systems will be improved, too. A new ceiling and all new frames, doors, hardware and finishes are included.

Construct a New Parish Hall and Staff Offices - $4,300,000
Considerable time and expertise was extended to determine how to advance the space needs of the parish while bearing in mind the Catholic stewardship model The Exploratory Building Committee confirmed the need for a new parish hall and staff offices. As the permanent parish gathering space, the new parish hall total footprint is 8,500 square feet: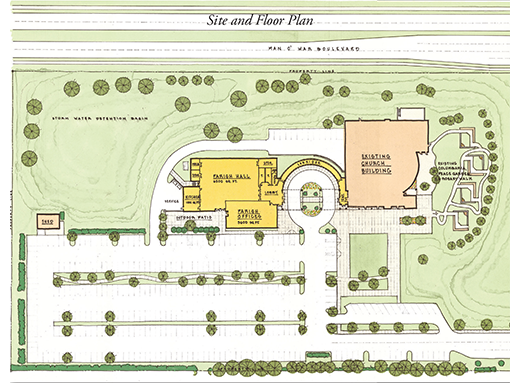 •    We plan to build a new 11,100 square foot building that will be connected to the church complex by an enclosed glass walkway arched around the circular driveway that will allow for easy access.
•    The size of the gathering space proper is 6,500 square feet and will seat up to 300 people in a banquet setting.
•    Our new kitchen will be approximately 1,000 square feet and will be configured for catered or in-house meal service and hospitality.  It will also include a storage pantry and a commercial freezer and refrigerator.
•    High-quality interior finishes will make this area very suitable for wedding receptions and formal gatherings.
•    Handicapped accessible restrooms will be located off the lobby and directly outside of the parish hall. 
•    500 square foot storage space is part of the plan.
•    Our plan calls for 3,100 square feet of staff office space that will provide adequate work areas for current and future parish administration needs.
•    Offices for the Pastor, Pastoral Associate,  Deacons, (shared office), Director of Religious Education, Music Director, Business Manager, Youth Minister, and Facilities Manager;  Small Meeting Room (2-4 people), Conference Room (10-12 people), Storage Area, Work Area (reception and cabinets), Library and Kitchenette.